Day 3
Tuesday, 1st of August
---
I woke up almost at 7:00 AM, thanks to Ragab (an Egyptian guy from the ship staff). I dressed and went to take my breakfast on the swimming pool. I met Mohamed, an Egyptian waiter. He asked me about my plans for the day, and I told him that I am going to Rome for shopping this time..enough tourism!! He advised me to go to Napoli instead of Rome because it is cheaper. But, since I was on my own, I told him it is better to hit for Rome because it is easier..(in fact I heard discouraging stories about people from Napoli as well!) :) Mohamed wished me good luck, and he advised me to be back before 6:00 PM because the ship will leave at 9:00 PM.

About 7:45 AM, he introduced me to Abigail, an American student. She told me that they are also going to Rome, she invited me to escort them. I thanked her, but I promised anyway to join them in their trip to the train station. At 8:00 AM, I was leaving the ship, dressed in an Italian dark blue T-shirt (I got from Egypt in fact), Egyptian beige shorts, Chinese yellow socks, and Italian dark blue shoes (I got from Austria in fact!!). :) I met Earnest again. Some students were waiting for a bus to go to the train station, and others were going in a trip for Italian film production studios! Earnest introduced me to Alok (?), an Indian student..but he is exactly the same as all my Indian friends; smart and funny! :) Earnest introduced me as well to Maria Khalifa, and that was a surprise!! :)
| | |
| --- | --- |
| | I know Maria will be surprised how I got this photo! Maria is an Egyptian girl, who was born and lives with her Egyptian family in the US. She speaks the cutest Arabic I have ever heard! Moreover, she learnt lots of Egyptian slang words (and bad names as well!!) outside Egypt..which is great!!!! :) She told me on that day that she will visit the studios because she is a communication student. |
So, once I arrived to the train station, and I got the ticket. I took the 9:00 AM train. It was again one of those two levels train! I spent the time between Civitavecchia and Rome reading the map, and searching for the places I have not been for. I realized that there are only 2 important places; Castle of Saint Angelo, and Trevi fountain. So, since the castle is located inside the vatican as my map indicated, I left the train in Rome Saint Pietro station at 10:00 AM.

---

So, again I found myself heading to Saint Pietro. In my way, I bought a film. I noticed that this shop, with the pretty Italian seller, is really distant from the center of the Vatican. That is why they sell the T-shirts and other souvenirs cheaper. So, I decided to do a big part of the shopping there!
Yet, I preferred to hit first for Saint Angelo. I walked, walked...walked..(God damns the stupid map of Rome!)...until it was something like 10:40 AM! oufff!! I finally took a bus, thanks to an Italian guy who helped me with this. In the bus, I had a short chat with an Italian lady, in French! :) She was telling me that she forgot her French!! :) Really, the Italians are very nice people..I must say! :)
Anyway, I found myself at the end in Saint Angelo yeah!!! :)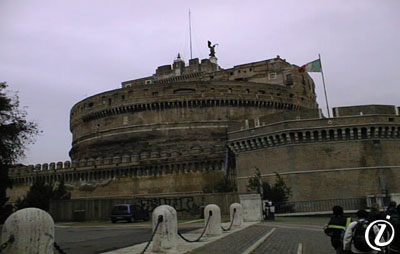 I took some photos inside and around it, as well as on the bride that is seen to the left of this photo. Inside the castle, I asked a young guy to take a photo for me, but I found his younger sister (something like 8 years) saying: "photo ..photo!!! "..But her brother sort of said no no..not for you! The girl felt sad, so I asked her to join the photo! :)

For my surprise, after taking this photo, they asked me about my country..so I said Egypt! I was surprised to know that the mother of the guy and his sister is actually Egyptian!!! And.. the girl said: "I know two Arabic words...shokran..and habeebi!!" :))

---

It was time for shopping now. But before that, I sat in front of the castle, eating a peach and an apple (Mohamed gave them to me!) :) I went to the shop, with the pretty lady. I found that the T-shirts that are sold outside S. Pietro for 10,000 Lira (5 US$) are sold for only 8,000 Lira. So, after bargaining with the lady, I got it for 7,000 Liras! :)) I took 3 t-shirts, some souvenirs, key holders, plates, cups, pencils, etc...! :) That all was for about 45,000 Lira. Anyway, after more bargaining, I paid only 40,000 !! :))

---

Still, I had to get a bag for mum. I found a leather bags seller in front of Saint Pietro. There was a cool one for about 280,000 Liras (140 US$)..read this...!

I told the guy this is too much. I cannot pay all this. So, he said..ok pay 100 US$ and it yours! So, I said it is still too much..So he said pay 50 US$ and it is yours (Imagine this!!)
I said..look, the maximum I can pay is 35 US$!! :) I was surprised to find him saying okay!!! It is yours!!!!!!!!! :) I was planning to ask for only 25 US$..but the bag was really expensive as it looks..! A brown leather bag, hand made in Italy..!! So, I got it for one fourth its price!!! Strange!

---

"Lunch time..", my stomach said! So, I asked for the closest McDonald's! :) I took a bus, and I was there..at about 12:45 PM having my lunch. After arranging my stuff, I started to do a biiig shopping in the streets of the Vatican. That was the result:
2 pullovers, 1 T-shirt, 1 shirt, a back bag and a cap. I must say anyway that Rome is expensive in comparison to Vienna. So, at least I got something for everybody!
Anyway, that was the end of my stay in Rome..so saying Good bye to Rome, I took the train back to Civitavecchia

---

In Civitavecchia
About 5:30 PM, taking the bus back to the ship. I sat in the back seat of the bus. Beside me where some professors from semester at sea. They thought that I am one of the students..I was not identified as a new student!! One of them, probably Dr. Randy, said..oh..you did a good shopping day! I introduced myself to him: "I am Moataz Attallah, the inter port student for Egypt"..and of course I got the usual response after saying my name: "Moa...what??!!" So, I say: "OK..you can call me Mizo, which sounds like Missouri!" :)

I was introduced to Dean Denny and Professor William (Bill) Griswold. Professor Bill asked me to repeat my real name, then he said: "You pronounce it with 3ein? (which the way my name is pronounced in Arabic "Mo3taz"). I was surprised, but he told me that it is similar to Momtaz, which he has seen a lot in Turkey. Bill spent a very long time teaching English in Turkey, that is why he knows some Arabic! :)

Dean Denny asked me whether this is my first experience abroad. I told him that I just returned from Austria after spending my practical summer training. He asked where exactly, and I said Steiermark. He asked: "in Leoben?!" I was really amazed because how on earth could he identify the place where I have been..the small Leoben!! He continued that he spent about 12 years in Austria. He also told me that I should talk to Reinard Heinisch, who is an Austrian professor on board of the ship..from Carinthia!

---

Back to my room, throwing all my stuff on the bed, quick shower, and..hurrying to pick the dinner (it was almost 7:30PM) ! I sat with Adam..who fate has selected to be my roommate in this quick trip!! :) Adam's father is professor Thomas Schott. Adam is a high school, 16 yrs old student. His mother joined the trip in Italy, with his young brother Ben in order to visit her home country, Israel, which is scheduled in the trip after Egypt.
So, since his father's room is full, Adam asked me to join the room, and I instantly welcomed him to join! :)

---

I met also Dr. Nadia Atif, who joined to be the interport lecturer, and who happened to be a professor at AUC..imagine this! Although I know almost 90% of the faculty at AUC, and not less than 60% of the faculty of AUC know me, I have not met her before because she is a part-time professor. I was also introduced to Nasser Al-Damer, a Saudi student who studies international relations in Nebraska. I was glad to meet somebody else who speaks Arabic..yeah!!! :)
The ship started to move at 9:00 PM. I spent some time going around the ship, meeting more people and introducing myself to more people in the funny way I used: "Hello, I am Mizoo, from Egypt!" :)

---

By 10:00 PM, I met almost all the faculty and staff, as well as Dean McCabe, the executive dean of the trip. I went to registrar of the trip Eline(?), she gave me copies of the schedules and classes. Then, in my way to the room at about 10:30 PM, I met a group of students, who happened all to be girls! :) I met Jennifer Broadhurst, known as Jennie, Cheryl , Samantha Lieberfarb (known as Sam!), Achante, and others! We had a long chat about almost everything. Jennie was asking, and I was answering..and we stayed this way until 1:30 AM..which was enough for a chat...and good time for me to sleep! :)
---
Day 4
7 Days with SAS